GIFTS

  •  

AWARDS 

  •  

PROMOTIONS

   •  

CONFERENCES  

•  

SEMINARS

  •  

FUND RAISERS  

•  

EVENTS  

•  

RETAIL
Journals Unlimited Inc – Custom Journal Design
What's more exciting than a key chain, refrigerator magnet, or a pen? A customized themed and guided journal of course! We will help you with enhancing your Brand Identity by putting Your Name and Logo on any of our 65+ themed and guided journals (or just plain lined journals). Quantities ranging from as few as 25 to as many as 100,000+ journals are available. We can customize the first page of any of our existing journal titles with your own artwork, image, photo, logo, and text.  We can add a second die-cut window, at no extra charge, if it suits your design. We can also add more personalized information such as your phone, address, website, special message, etc. The entire first page is yours to utilize, even the portion that does not show through the die-cut window(s). Need extra lead-in pages?  No problem! Our goal is to make you look good, by leaving a positive long lasting impression on your clients. Keep YOUR NAME in front of your customer!  MADE IN THE USA,  RECYCLED PAPER,  SOY BASED INK.

If more than 65 available titles are not enough to inspire you… we can use our creative powers and create a truly unique and personalized / customized journal just for you!
Please click on the menu above for descriptions of options, pricing, accepted file formats, and samples of beautiful custom journals already in print. You can visit www.journalsunlimited.com to view all of the themed and guided journal formats that we offer.  By the way, if you see something you like in our sample area, click on the link provided for purchasing information.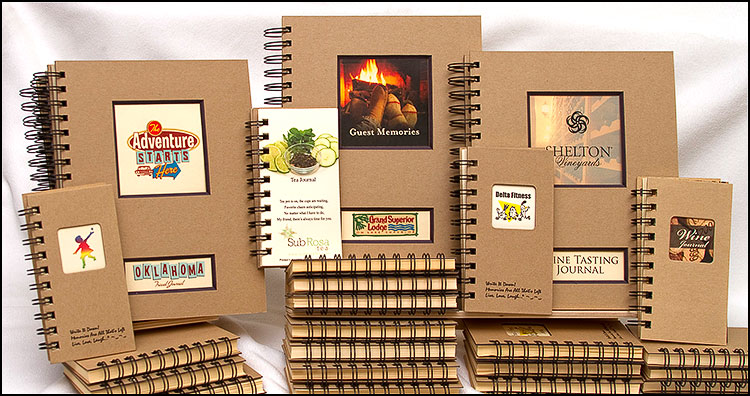 You imagine it – We'll create it!  The possibilities are unlimited….