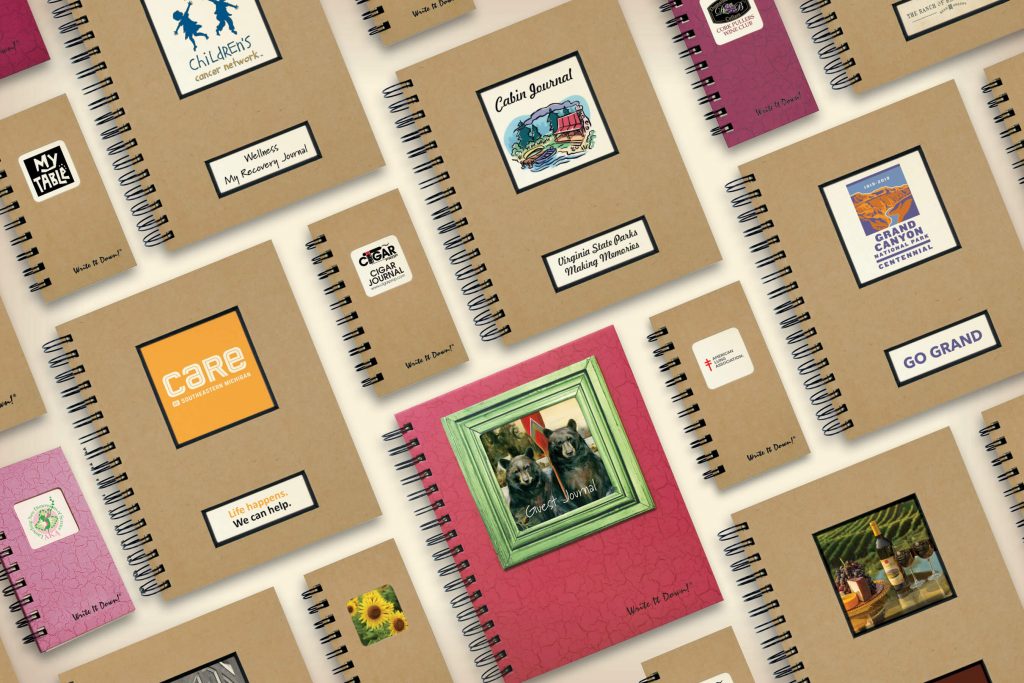 You imagine it – We'll create it! The possibilities are unlimited….
Journals Unlimited, home of the world's largest collection of themed and guided journals, offers custom journals. Our customized journals are printed in the USA using recycled paper and soy-based ink.
We can customize the first page of any of our 65+ existing journal titles with your own artwork, image, photo, logo, and text. We print on the first page with your information showing through a die-cut window. We can add a second die-cut window, at no extra charge, if it suits the design of your customized journal. We can also add more personalized information to your journal, such as your phone, address, website, special message, etc. The entire first page of the journal is yours to customize, even the portion that does not show through the die-cut window(s). Need custom lead-in pages? No problem!
If more than 65 available journal titles are not enough to inspire you… we can use our creative powers and create a truly unique and personalized / customized journal just for you!
We offer both retail and wholesale custom journals at low minimums. Please click on the menu for descriptions of options, pricing, accepted file formats, and samples of beautiful custom journals already in print. You can visit www.journalsunlimited.com to view all of the themed and guided journal formats that we offer.